What hit your mind when you hear Smirnoff, yes the first thing is famous vodka loved by many around the world. But that is not what we are talking here, here we come for Smirnoff Ice. It is quite different from what you had been thinking. So why not read all? Get all about Smirnoff Ice Alcohol Content together with more facts. Before take your sip, learn what it takes.
What is Smirnoff Ice Alcohol?
The name Smirnoff comes with the most popular vodka brand which has come with a new touch of malt beverages in the year 1999. And here, Smirnoff Ice has won the attention of all as one of the must-have party staples.
The rich-flavored malt beverage marks its origin from the place of Smirnoff. That was established in 1864 in Moscow. Regardless that Smirnoff Ice is a newcomer for the brand category, it is a new approach that keeps its name going.
We hear exciting stories around the name Smirnoff. But remember this alcoholic beverage does not take vodka. Simply, Smirnoff Ice can introduce as a malt beverage because of why its brewing process is somewhat similar to making a beer.
So with all that, Smirnoff Ice comes as a beverage of malt also takes a light and fruity flavor, which makes it more loved.
What is Smirnoff Ice Alcohol Content?
If you have the habit of taking a drink every day, you must know about Alcohol Content. So what is Smirnoff Ice Alcohol Content? This is must-know if you feel like giving it a try. As you know, Smirnoff is Vodka which is quite high in the amount of Alcohol Content. But that does not come the same when it comes to Smirnoff Ice.
You already know that Smirnoff Ice is a malt beverage comes in the beer category. And when it comes to Smirnoff Ice Alcohol Content, that is just 4.5% which is very less amount you would find in a drink.
The Alcohol Content Smirnoff Ice is one thing that makes it one of the best drinks you could have at a party and enjoy. And with its amazing flavors, it gets loved by many. Especially for the young crowd, Smirnoff Ice Drink is one best option for partying.
Smirnoff Ice Alcohol Content vs. Beer
As we mentioned earlier as well, being a malt beverage, the process takes to prepare Smirnoff Ice is similar to the process takes to prepare Beer. And what brings another similarity is its Alcohol Content. When it comes to Smirnoff Ice Alcohol Content vs. Beer, we come to an interesting point. In fact, Alcohol Content of Beer is 5% while Smirnoff Ice Alcohol Content is 4.5%.
So even Smirnoff Ice comes as an Alcoholic beverage, it takes too light Alcohol Content. You would not get drunk too easily even if you take Smirnoff Ice a little more.  So you can drink a lot and enjoy the party to the fullest if you pick Smirnoff Ice your drink today.
Smirnoff Ice Flavors- What will you choose?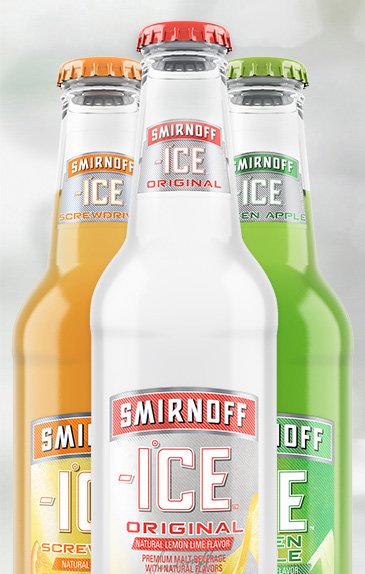 When it comes to Party Beverages, Smirnoff Ice becomes one top option with its loved flavors. It offers amazing Smirnoff Ice flavors for those who like experimenting. So here we are taking you through most popular Smirnoff Ice flavors to try.
Smirnoff Ice Original
The basic flavor of this light Alcoholic beverage is Smirnoff Ice Original. This original flavor is very popular among the drinkers with its "Natural Lemon Lime" giving a citrusy taste. This flavor takes a crisp, zesty and absolutely refreshing flavors of lemon and lime for those who love to take a fruity touch. The Alcohol Content in Smirnoff Ice Original is just 4.5%. So knowing this is lighter than beer, anyone could easily make it your drink tonight to enjoy the party without getting too drunk.
Smirnoff Ice Green Apple
Another amazing fruity twist by Smirnoff Ice is its green Apple flavor. Together with the malt beverage, it brings an amazing fruity blend promoting a refreshing flavor to fall in love. If you like to taste Vodka, you must try Smirnoff Ice Green Apple for sure. But remember that it serves a different taste and a feel. You are here enjoying the malt beverage with the refreshing taste of green apple. And there is nothing to worry about the Alcohol Content as it serves the same just like the original flavor. It is just 4.5% making you choose the fruity malt beverage over and over.
Smirnoff Ice Screwdriver
Just like the name sounds, this is one wild flavor of Smirnoff Ice has, serving a strange flavor combination. Smirnoff Ice Screwdriver comes in the flavor of natural orange. So if you are a big fan of citrus flavor, Smirnoff Ice Screwdriver is a must to give a try. Just think of the flavor of juicy oranges in a malt beverage? Sounds great, right?
This is one big flavor that has been appraised a lot. And this is quite different from others in its Alcohol Content too. In fact, Smirnoff Ice Screwdriver alcohol content is around 5.8% which is slightly higher than the others we talked earlier. So if you prefer something a little stronger but not too much, this would fit your requirements.
We took only three popular Smirnoff Ice flavors today. But there are more flavors in the list including Raspberry, Smash Peach Mango, Black Cherry, Smash Lemon Like, Red, Margarita, White & Berry and etc. So choose the drink from your favorite fruit flavor.
Smirnoff Ice Alcohol Content is lighter than beer when it comes to most of its flavors. And it brings you the best Alcoholic beverage with a fruity touch for those who love a different taste and a feel. So no matter what quantity you choose, you will not get badly affect on your health here with Smirnoff Ice. You already know why as we talked about its light Alcohol Content. And that is truly the best part of Smirnoff Ice drink to make it the biggest part of your table. Then why not give a try?